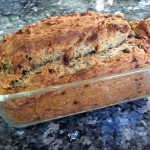 This banana bread is made from Pamela's Artizan Flour Blend. If you can't find it in the store, you can order it from Amazon
. This flour blend is Wheat-Free, gluten free, non-dairy, whole grain, no artificial colors, flavors, preservatives. It's made from brown rice, tapioca starch, white rice flour, potato starch, sorghum flour, arrowroot starch, sweet rice flour, guar gum.
Ingredients:
4 ripe bananas, mashed

2 eggs

1/2 cup light brown sugar (packed)
8 Tbs of butter (1 stick), or butter alternative (softened). I leave it out of the fridge for an hour before.
1 tsp vanilla
1 tsp of salt

1 tsp baking soda

2 1/4 cups of Pamela's Products Artisan Flour Blend


2 Tbs of ground chia seeds (I grind them in a coffee grinder)

2 Tbs of ground flax seeds (I grind them in a coffee grinder)

1/4 cup of mini chocolate chips

1/2 cup of sour cream, or unsweetened Greek yogurt

Optional: 1/4 tsp nutmeg
Optional: 1 cup walnuts, chopped
Yield: 9″x 5″ loaf or 9″ x 13″ layer
Pre-heat oven to 350 F. Beat butter and brown sugar until light yellow and creamy, add eggs, then vanilla. In a separate bowl, mix together bananas, sour cream or yogurt, add to butter mixture and combine. Add dry ingredients and stir to incorporate. Pour into a greased loaf pan. Bake for about 1 hr or until tooth-pick comes out clean and top springs back under slight touch.
9″ x 13″ cake can be served with powdered sugar or cream cheese frosting.