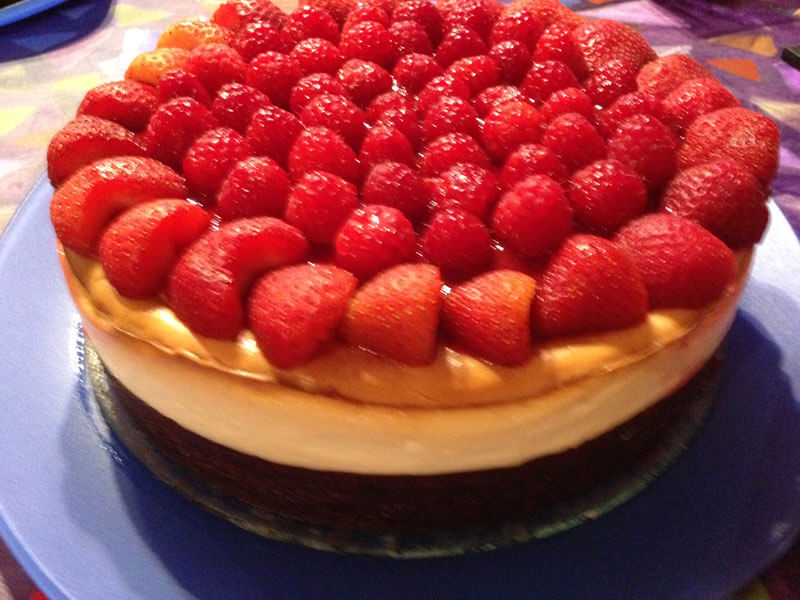 This cheesecake uses Flourless Chocolate Cake base. There is no flour in it at all, neither in the base or in cheesecake.
Bake in 9 or 10-inch Springform type pan. I use one with glass bottom and removable silicone side
Preheat oven to 325 degrees
Ingredients
8 ounces (2 sticks) butter
7 large eggs
1 ¾ cup granulated sugar
10 ounces (1 bag) (Ghirardelli Bittersweet or equivalent) chocolate
3/4 Cup heavy whipping cream
3 x 8-ounce packages of cream cheese
1 teaspoon vanilla extract
Base:
It's the same chocolate cake base as used for Flourless Chocolate Spider Cake
Melt 8 ounces (2 sticks) of butter and 10 ounces (1 bag) chocolate chips together (double boiler or microwave)
Add 1 cup sugar to chocolate and butter (granules of sugar may still be visible after stirring)
Beat 4 eggs separately adding additional 1/4 cup sugar then add butter, sugar, chocolate mixture to eggs
Pour batter into pan
Place pan in larger pan containing about 1-inch water
Place into oven and cook for 70-75 minutes (will appear slightly browned and sometimes cracked on top)
Cheesecake:
In a food processor or mixer combine cream cheese, whipping cream, 3 eggs, 3/4 Cup sugar, and vanilla.
Pour on top of cooked chocolate base in a springform pan. Bake similarly in larger pan with approximately 1-inch water for additional 60 minutes or until lightly brown on top
Toppings and variations
Raspberry sauce: puree fresh or froze raspberries with 1-2 Tbs sugar and strain
Place fresh raspberries or strawberries on top
May add pieces of oreo type cookies to cheesecake batter before baking
May add liquors such as Bailey's or Kalua to cheesecake batter.